A complete adventure channel rebrand and ecommerce upgrade.
When our friends at Suluk 46 came to us for a complete branding makeover, we were beyond excited at the opportunity. After looking at their customer feedback, we were able to revamp and upgrade their ecommerce platform while bringing their ultra light-weight camping products upfront on their website. We also integrated their vlogs showcasing the team using their products in action on their adventure YouTube channel. 
The result? 100k in product sales with a 10x conversion rate increase in their first 6 months post-launch! 
Being a small business, we are used to "doing everything ourselves" but when it came to building and launching our online presence, this task was deemed outside of our engineering competence. We thought the process would be overwhelming and intimidating, but it wasn't. We were provided a questionnaire to lock down the fundamentals, presented with a number of concepts to review, then fine tuned it from there. But how would we maintain and update the simple stuff? Easy, we were given instructions and tutorials to update and launch new products or add blog posts, and then anything outside of our capabilities was a simple phone call away. We can't say enough about Joey and the team at BeLoud, they have been instrumental in the evolution of our business, and we look forward to continuing this excellent relationship.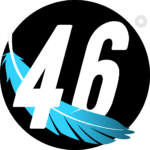 We decided to clean up/build on their existing logo – updating the colour choices, adding the feather element and reshaping it to work on their metal engraved products and apparel. 
REVENUE IN FIRST YEAR OF LAUNCH
Suluk 46 products have shipped internationally to thousands of like-minded adventurers, with whom they have ventured into the backcountry, traversed trails, and scaled mountains of all shapes, sizes and difficulty level.